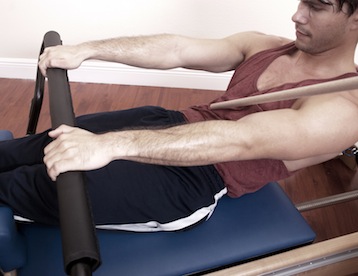 People often ask if Pilates is good for weight loss. And the truth is that while it can be incorporated into a weight loss plan and successfully improve a person's appearance, there are other factors to consider when trying to lose weight.
In a perfect world, you would have the time, the money and the energy to plan and eat a balanced diet, exercise aerobically at least 4 times a week, and sleep 9 hours every day. If you can afford this, there is no doubt that this is the way to go when trying to lose weight. And you should also remove all stress from your life. But, in the context of a toxic environment that strongly encourages passive overeating, sedentary and stressful lifestyles, losing weight can be a hard thing to do for some people.
Luckily, findings from several research studies reveal that losing weight does not have to be so difficult. Let's start by discussing CALCIUM...
Calcium in the diet
Who doesn't know that calcium builds strong bones and teeth? What you may not know is that low calcium in the diet may be a part of your limited ability to lose weight.
A recent study showed that calcium lowers body weight by converting a portion of calories to heat rather than to stored body fat. Increasing your calcium consumption during a meal suppresses the hormone calcitrol, leading to a breakdown of more fat cells. Calcium binds to fats present in the same meal, creating a soap-like substance that the body excretes because it finds it hard to absorb. Consuming a few calcium sources like leafy greens, almonds, salmon, and dairy products will definitely help in the weight loss plan.
I am also going to say that calcium is better absorbed from food than from pills. In another study, yogurt eaters' waist size dropped by more than one inch and a half compared with the calcium supplement group. Supplements for calcium only absorb well if they contain the right kind of calcium like calcium citrate and malate. The ingredients used in pills are often the least expensive i.e. the cheapest form the manufacturer can find. The ingredients that your body can best digest are NOT necessarily the cheapest. A calcium pill that is calcium carbonate will be poorly absorbed by the body. Better yet, a cup of yogurt and oatmeal would just about get you there with food alone.
Liquid meals
Research out of a Maastricht University showed that a meal blended with some water into a soup causes the stomach wall to be stretched for longer periods than the same solid meal presented on a plate. The whole mixture of water and food remains in the stomach for longer, reducing the feeling of hunger. The stretched stomach wall inhibits the production of the hormone ghrelin, which is responsible for stimulating our appetite. The result, it takes longer for the brain to pick up the signal "to eat again."
Simply drinking water along with a normal meal won't do this trick. The water will pass straight through the sphincter to the intestines, not filling your stomach up as efficiently. The stomach gradually empties more slowly for the soup than the meal plus water.
Restoring healthy sleep
Research has always supported the idea that we need sleep as much as we need exercise in order to lose weight. New studies provide evidence that sleeping between 7 to 8.9 hours per night decreases the urge to eat. Recent research claims that less than 7 hours of sleep at night is also related to a higher genetic influence on weight. People who are genetically predisposed to being obese may mitigate their genes' influence on weight by sleeping more than 7 hours. This does not necessarily mean you can sleep yourself thin. But according to the researchers you can sleep yourself to a point where modifiable behaviors, like diet and exercise, are more important in determining your body weight than genetics.
The 30 minutes workouts
The results of a recent study at the University of Copenhagen were amazing too. 60 overweight males who exercised for 30 minutes a day, lost 2 pounds more of body weight after 13 weeks than those who exercised for 60 min. Half the workout time led to better results on the scale.
The researchers attribute the surprising results to the 30 min workout being so doable that the subjects had energy for even more physical activity after their daily exercise session. They add that the men who exercised for 60 min a day probably ate more to compensate for the longer workout session, and therefore lost less weight. Whatever the reason, here is another good study to help me answer another common question: can you really get a good Pilates workout in 30 min?
To learn more about healthy behaviors that produce successful weight loss and maintenance results, supported by research, subscribe to our mailing list. For a personalized 30 min Pilates session with a physical therapist you may call the office at 305-428-2790 or send us a message.
Sources
Anglin JC. Assessing the effectiveness of intuitive eating for weight loss - pilot study. Nutrition and Health 2012;21:107-115.
Bruckbauer A, Zemel MB. Dairy Foods, Calcium and Weight Management. Obesity: Epidemiology, Pathophysiology and Prevention. 2011;46.
Johnston CA, Moreno JP. Successful Habits of Weight Losers. Am J Lifestyle Med. 2012;6:113-115.
Kelishadi R, Zemel MB, Hashemipour M, Hosseini M and Mohammadifard N. Can a dairy-rich diet be effective in long-term weight control of young children? J Am Coll Nutr. 2010; 28:601-610.
Kissilef HR et al. Leptin reverses declines in satiation in weight-reduced obese humans. Am J Clin Nutr. 2012;95:309-317.
M. Rosenkilde, P. L. Auerbach, M. H. Reichkendler, T. Ploug, B. M. Stallknecht, A. Sjodin. Body fat loss and compensatory mechanisms in response to different doses of aerobic exercise - a randomized controlled trial in overweight sedentary males. AJP: Regulatory, Integrative and Comparative Physiology, 2012; DOI: 10.1152/ajpregu.00141.2012
Martens MJ, Lemmens SG, Born JM, Westerterp-Platenga MS. Satiating capacity and post-prandial relationships between appetite parameters and gut-peptide concentrations with solid and liquefied carbohydrate. PLoS One. 2012;7(7):e42110.
University of Copenhagen. "30 minutes of daily exercise does the trick: Same effect in half the time." Science Daily, 22 Aug. 2012. Web. 2 Jan. 2013.