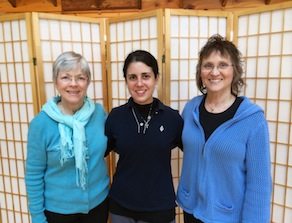 After three years of applying Schroth-based physical therapy for the conservative management of spinal deformities, I decided to pursue Advanced Schroth Certification. I'm glad to say I've just returned from completing the Advanced Schroth course offered by the Barcelona Scoliosis Physiotherapy School (BSPTS). This course was very interesting.
We were 6 physical therapists who had previously been certified in the basic Schroth method and several patients of various ages and curve patterns. For one week, we examined, treated, and interacted with the different patients. Needless to say, it was the perfect opportunity to refine our facilitation techniques and learn new ones under the watchful guidance of the instructors (Beth Janssen and Patti Orthwein on first picture). Every day, we had adult patients coming in with different situations who once shared a common goal; pain relief. One of these patients was a passionate dancer and pilates instructor who shared her personal experience since her introduction into the Schroth world. Although all of the adult patients had been pain-free for a while now, they felt encouraged to continue with the Schroth exercises on their own and made sporadic visits to the clinic for tune ups.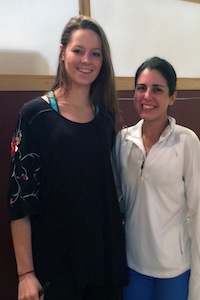 Orthotist Grant Wood, who is a scoliosis bracing specialist, was at the course, and he led an interesting discussion on scoliosis bracing using Rigo principles. Most of the younger patients in the course were wearing the Rigo-Cheneau brace he had designed for them, except for two girls who had Boston braces.
I had the pleasure of meeting a special girl, Nina Byskosh (second picture), who wrote "My Life with Scoliosis", a book I think every young person with scoliosis should read. We also met Canadian physiotherapist Andrea Lebel, who has been leading very interesting research on the treatment of juvenile idiopathic scoliosis. Andrea recently presented a case report on a 5-year-old scoliosis patient at the SOSORT, which is the international society of conservative treatment for spinal deformity.
After a week of performing supervised examinations and treatments, the day for the final exam arrived. Upon passing the practical one-hour long exam, I obtained Advanced Certification in the Schroth-based method from the BSPTS for treating adolescent idiopathic scoliosis in groups, adults with degenerative and painful scoliosis, and spinal fusion cases.
I'm now excited to start applying my new knowledge. I had a great time learning from my peers, the experienced instructors, and the patients themselves. I now look forward to attending a SOSORT meeting in the near future.